Recognition as an "Official Project of the Decade"
The German National Committee for the UN Decade ("Education for Sustainable Development" 2005-2014) has recognized our local sustainability portal www.harburg21.de as an "Official German Project for the UN Decade" 2009/2010, 2011/2012 and 2013/2014. We are now one of the more than 1600 projects that have been awarded recognition since 2005 and are part of the worldwide network "Learning Sustainability". This marks our web portal as both a quality service rendered to the public and a good example of how to further education for sustainable development and people's awareness about it.
The first recognition received its proper celebration. At a press conference held at the Harburg Townhall on 22. September 2009 and presided by our patron Torsten Meinberg, two UNESCO delegates (Heidi Consentius and Freya Diepenbrock, both based in Berlin) presented HARBURG21 with the respective UNESCO certificate, a stamp and a flag. In her speech, Heidi Consentius praised our website as an example of good educational practice that aims to inform and motivate both the German- and non-German speaking general public of the region to actively participate in local Agenda 21 processes.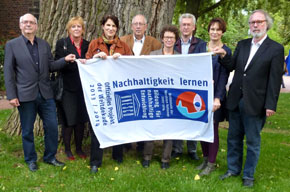 Additionally, and to everybody's surprize, Rolf Buhs, at that time a member of the HARBURG21 steering group, presented Gisela and Chris Baudy with Prof. Peter Michael Hamel's hand-written partiture 'Nur die Steine werden bleiben' (Only stones will remain). This is a piece of music that had been composed and first performed to celebrate the birth of HARBURG21 in November 1997.
cb