Eco-friendly and climate-compliant transport
Key issues of sustainable public and private transport are the reduction of both the noise level and the discharge of CO2 and pollutants, cutting costs and upgrading safety measures - to improve the quality of local and global life.
An expanded and affordable (solar- hydro- or electro- or biofuel-powered) public transport system with feasible provisions for the physically handicapped certainly points in the right direction. Other options are car-/motorbike sharing and a better infrastructure for cyclists, to name but a few examples.
Read below about local mobility projects and acitivities geared towards sustainable development and join in. If you'd like to publish your own transport project or campaign here, please get in touch with the office team.
> Transport21 > Better transfer times > Exploring Harburg by bike
> Leisure Time Trails > E-mobility in Harburg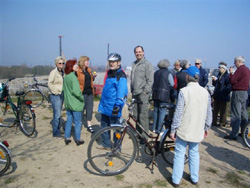 is a HARBURG21 working group focussing on all aspects of public and private mobility (eg barrier-free travelling, shared space systems, road safety, "green" cycling routes etc), conducting cycling tours (click here for details) around Harburg and organizing public surveys and other events.
The group meets regularly each month on the second Monday from 5:30 p.m - 7:30 p.m. at: HARBURG21-Buero, Knoopstraße 35, ROOM 307, 21073 Hamburg/Germany. Contact: Frank Wiesner, Tel. +49-40-765 15 52.
Since May 2000, a new bus time table has been in operation which grants better transfer times for passengers either changing buses at the Harburg Railway Station or travelling by bus and rapid train to and fro this station. Additionally, a bus runs once an hour on Saturdays between Harburg Railway Station and Großmoorbogen (industrial area). These important changes have been brought about by Harburg's focal group Transport21 (AG Verkehr21).
From May to October each year - on the first Sunday of the month - Frank Wiesner invites cyclists to join him on various study tours (from 11 a.m. - 6 p.m.) around Harburg and beyond. The distance covered ranges from 35 to roughly 60 km. Point of both departure and return is the Harburger Rathausplatz. Participation is free of charge, except for public transport tickets (should the need arise). The aim of these tours is two-fold: Enjoying "green routes" and critically assess their suitability in terms of sustainable transport and mobility. Respective result are then further examined (for future actions) at the regular meetings of Transport21.
The Harburg Branch of the German Cyclists Association (ADFC) also offers various bicycle tours in County Harburg, sometimes leading as far as Lueneburg or Cuxhaven. Club members pay 1 Euro, others are charged up to 7.50 Euros. Click here to view their programme (in German language).
In February 2009, a new leisure time project for the local park was launched in Rosengarten (County Harburg). In 2011 the project was competed: New park trails have been designed with the help of the local public. Existing trails cater for the needs of cyclists, hikers and ramblers, and inline skaters. The overall objective is to connect the natural, topographic and cultural attractions of the participating communities and further an economically viable development of the region.
Contact details:
Ms Sissel Theuerjahr, Regionalmanagment Rosengarten
email: s.theuerjahr@regionalpark-rosengarten.de
www.regionalpark-rosengarten.de
Since June 2013, Harburg's civil service has three zero emission cars on their disposal: two Smarts and one Mitsubishi. They are in frequent use and should not remain the only leased specimen of climate-friendly office cars in the district. However, what's good for the environment and the climate is - at least for the time being - a rather costly business. Hence, the project may expire when the co-funding sponsored by the Federal Mnistry for Transport, Building and Urban Development (BMVBS) will stop in 2016.
Read >> here more about this pilot project.
cb latest update November 2013